Scroll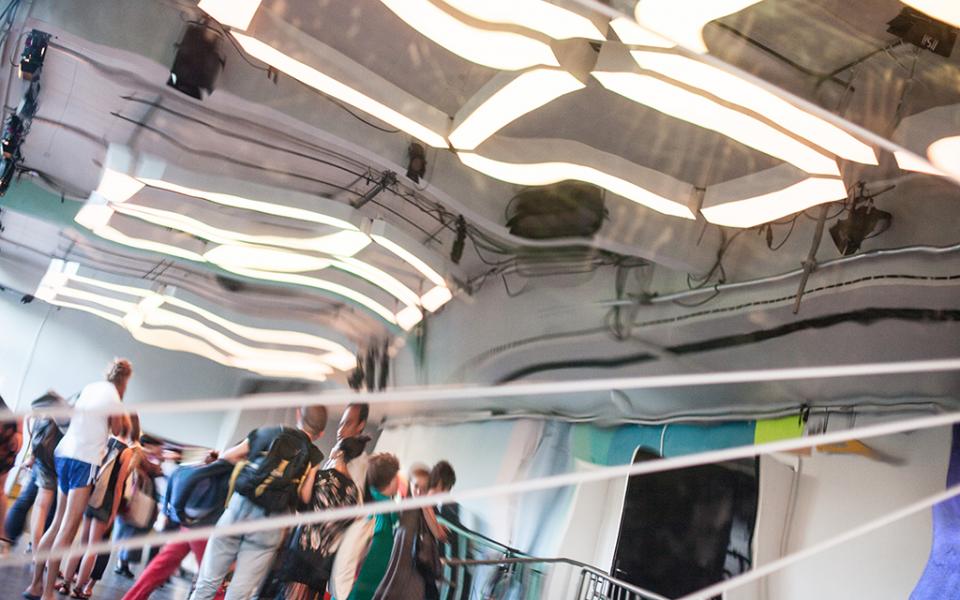 (Re)-Imagined – Intersectional Future Perspectives from the Independent Performing Arts
Directly after the premiere of the third episode of the "PAF Documentary Miniseries"

With Noa Winter (coordinator Making A Difference), Dr. Azadeh Sharifi (theatre scholar), Lara-Sophie Milagro (Artistic Director Label Noir & actress) & Tessa Hartig (PAF Berlin)
"How can we use the performing arts to help us envision a hopeful future? - Today, artists taking part in the 2020 Berlin Performing Arts Festival provide answers to this question in the third and final episode of the PAF Documentary Miniseries. Following this, the question will be further pursued in a panel discussion with a focus on participation and self-determination, intersectionally, by those who have been forced to experience structural discrimination in a wide variety of ways.

After all, a promising future absolutely needs diversity and representation as well as honesty and a multitude of perspectives. This panel discussion will be dedicated to a joint stock taking and reflection.

Together with the theater scholars Dr. Azadeh Sharifi and Noa Winter, as well as Lara-Sophie Milagro (actor, director and artistic director of Label Noir), discussion and reflection will take place on the topic of what we need in order to make the performing arts more manifold, diverse and representative and how this in turn can affect culture and society. What approaches, works and projects exist at the moment that already manage to achieve this? What is being developed? What are examples of best practice? What is desirable and what is urgently necessary? A wish list, a rallying cry, a plan.

Livestream: May 22, 2020 from 7:15 pm to 8:15 pm. 
Takes place in German. 
Noa Winter
Noa Winter studied theater studies, dramaturgy and education studies. She currently works as a coordinator for the project Making a Difference, which supports Berlin-based dance makers with disabilities. She also works independently as a curator, dramaturg and workshop director and is doing her doctorate with a thesis exploring self-determined working methods of disabled artists and aesthetics of access. She teaches at the University of Mainz and worked in the field of accessibility, programming planning and production management between 2015 and 2019 for the festivals Grenzenlos Kultur (Mainz) and No Limits (Berlin), amongst others. She recently co-curated the symposia Making Theater Accessible – Be Prepared to Make Mistakes and Explodierende Zeiten, ver_rückte Räume – Disability Arts & Crip Spacetime.
Dr. Azadeh Sharifi
Dr. Azadeh Sharifi is a theater scholar at LMU Munich. She deals with theater and migration, postcolonial theory and decolonial practices in theater as well as feminist and intersectional performances. She was a fellow at the international research college Interweaving Performance Cultures at the Free University of Berlin. She teaches at LMU Munich, HBK Braunschweig and the University of Vienna. In addition, she also works as an activist and curator in theater, including, amongst others, for the 2017 Augenblick Mal! festival and the 2018 edition of Politik im Freien Theater Munich.  She is a board member of the Future Advisory Board (Fab) of Performance Studies international (PSi).
Lara-Sophie Milagro
Lara-Sophie Milagro was born in Berlin and studied acting and singing in London, Berlin and New York. Among others, she has performed at Residenztheater Munich, the Munich Kammerspielen, Staatstheater Kassel, Staatstheater Mainz, Ballhaus Naunynstraße Berlin, HAU Hebbel am Ufer Berlin, Deutsches Theater Berlin and Nationaltheater Mannheim. She has collaborated with directors including Augusto Boal, Nikolaus Lehnhoff, Frank Patrick Steckel, Antoine Uitdehaag and Anta Helena Recke. Lara-Sophie has also performed in numerous film and television projects including, amongst others,Tatort Weimar (2017), the Netflix series Dogs of Berlin (2018) and the television film Das Geheimnis des Totenwaldes (2020) opposite Matthias Brandt. She has worked as an actor, director and artistic director of the artist collective and production network Label Noir since 2010.