Scroll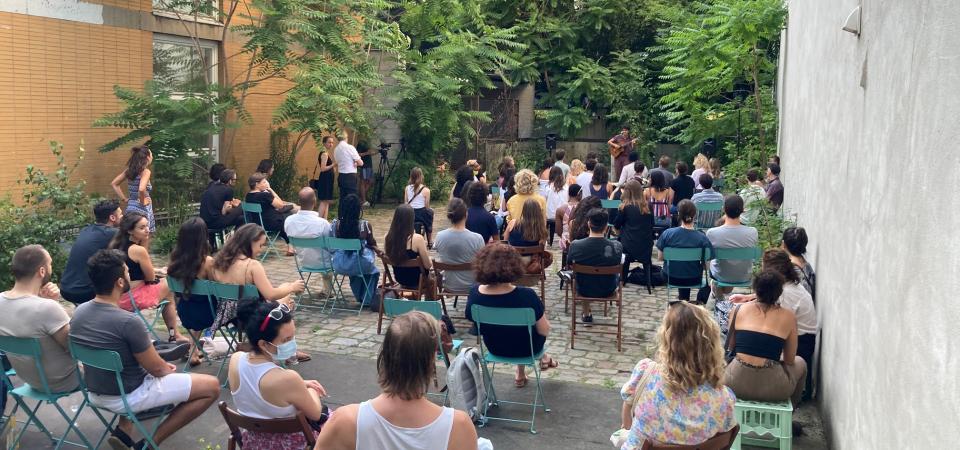 Haunt
A new center for contemporary art and culture can be found in the generous rear courtyard of Kluckstraße 23 in the southern part of Berlin's Tiergarten. It is operated by the art collective Frontviews, an international group of artists and theorists: they have decided to call the space HAUNT.
It is located in the former training center for municipal gardeners where the grounds and training rooms of the Department of Parks have been left abandoned for seven years and given over to the wild plants and the wilder moods of nature. With a small reconfiguration which gives nature a chance to recuperate and spread out in the courtyard garden (approximately 400 meters), the collective carefully works on the side of its green and great inhabitants and presents a series of creative activities.
The HAUNT courtyard is now in the middle of an art pavilion and in the rear section of a factory building. Through this setting, artists working in a variety of disciplines are encouraged to develop thematically suitable work that enters into a dialogue with the characteristics of the outdoor area. Alongside exhibitions, a variety of forms of performing arts and workshops are offered on a regular basis.
Direction
Bus Linie M48 & M85
Bushaltestelle Lützowstr./Potsdamer Str.
U1 & U3 Kurfürstenstraße
Bus M29 Gedenkstätte Dt. Widerstand
 
Venue notes
A continuous, step-free and level access (incl. curb ramp) from the street to the building and to the event area with a width of at least 150 cm is available. There are no barrier-free parking spaces or sanitary facilities available. There is space for wheelchairs or walkers in the event hall/area and there is the possibility of special suitable seat reservation and/or to enter the hall ahead of time. The event will be held outside at the Haunt and is suitable for children and their parents.

Contact: Thorsten Kasper
E-mail: kasper@frontviews.de
Phone: 0172 965 6595