Scroll
A queer science-fiction rite
Jules Petru Fricker (LEGZ)
Playing times
Th 01.06 · 20:00 -

21:00
Fr 02.06 · 20:00 -

21:00
Sa 03.06 · 20:00 -

21:00
Admission price
15 € | 10 € reduced + booking fee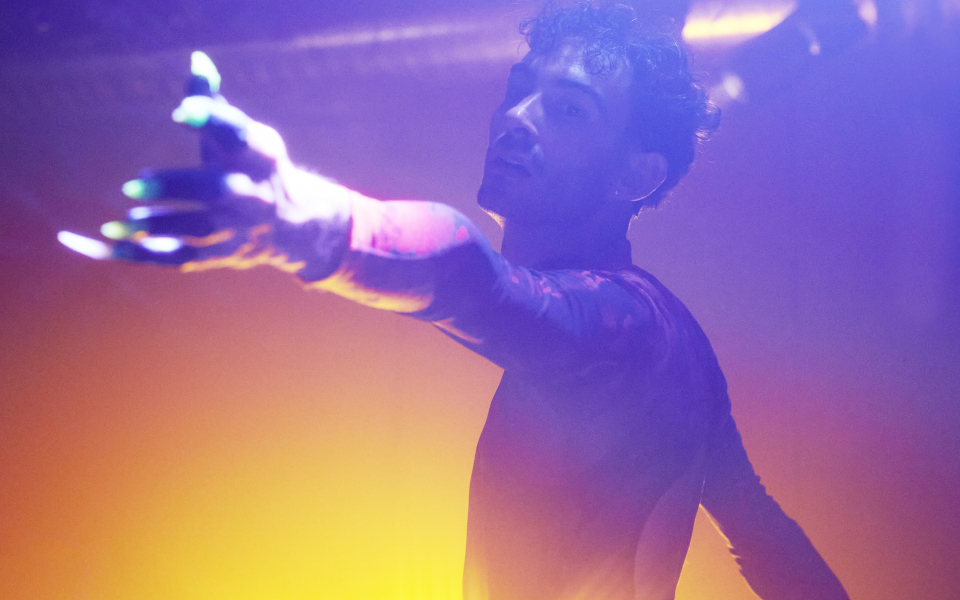 A performative exploration of queer becoming and celebration of gender fluidity full of hope and resilience. between – A queer science-fiction rite explores the interconnectivity of queer subjects and cele-brates the range of gender identities. Jules Petru Fricker's first solo rooted in their Berlin Drag practice celebrates the rite of queer becoming. The Swiss-Romanian artist formerly known under their alter ego LEGZ guides the audience through a queer sci-fi journey full of hope and resilience. Through a time travel machine installation they invoke shredded memories of their vast audiovis-ual childhood archive. Between researches the body as an archive where the performer ultimately finds refuge on the dancefloor.
There will be a "Spill the T, sis - Queer Sit-In and T-Gathering" on June 2 and a follow-up discussion to "between" on June 3.
There is no continuous, step-free and level access (incl. curb ramp) from the street to the building and the event area with a width of at least 150 cm. However, there is a ramp with a width of 1 meter. The entrance has only one step. There are no barrier-free parking spaces and sanitary facilities. There is space for wheelchairs or walkers in the event hall/area and there is the possibility of special suitable seat reservation and/or to enter the hall ahead of time. In this case, pre-registration is requested.

The performance will be held in English.

Contact: Asier Solana
E-mail: asiersol@web.de
Phone: 0160 257 6666
Performance, choreography & installation: Jules Petru Fricker
Dramaturgy: Nils Amadeus Lange
Music: Aisha Devi, Bendik Giske
Music Set: Grinderteeth
Lighting Design: Theresa Baumgartner
Headpiece: Jochen Kronier
Lyrics: Oxi Peng, Jules P. Fricker
Video editing: Jules P. Fricker, filmed by Petru & Imi Rusz
A co-production with the City of Zurich (Covid Stipend 2022) and Migros Kulturprozent.