Scroll
Children's/Youth Theater, Music Theater/Performance
Music performance for all from 0
Daniella Strasfogel / LOUDsoft
Playing times
Th 01.06 · 10:00 -

10:40
Fr 02.06 · 10:00 -

10:40
Sa 03.06 · 10:00 -

10:40
Duration
Variable between 30 to 50 min
Admission price
10 € | 8 € reduced | 6 € children + booking fee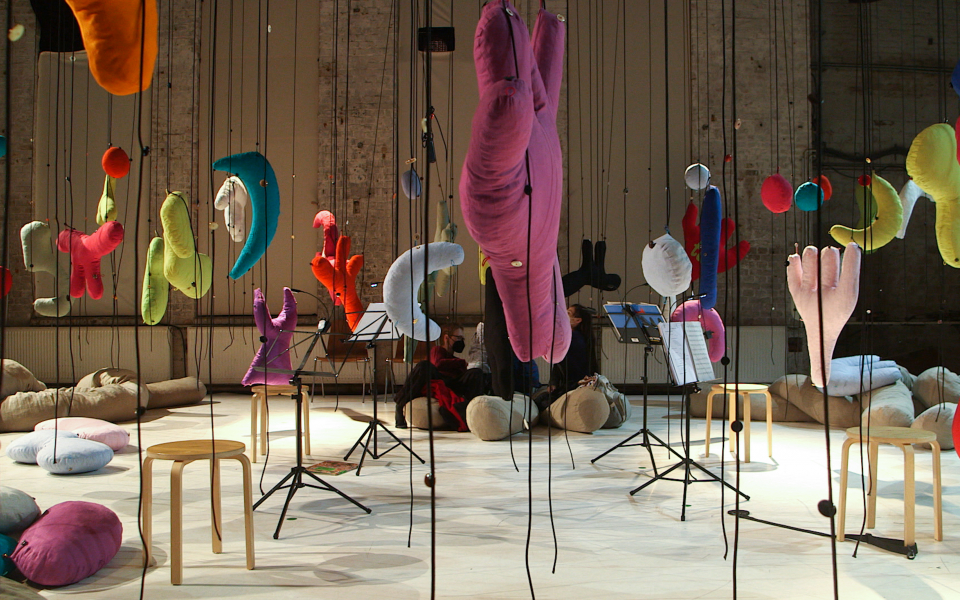 The series Wortlaut combines sound art with wordplay, discovers the music in language and celebrates nonsense. With a great deal of imagination and joy, nonsense is pursued and the boundaries between sound and language are researched. With texts by the Berlin poet Uljana Wolf and a world premiere for musicians and the audience by the composer Jessie Marino, Wortlaut builds a bridge between dada and baby talk, chamber music and Bollywood. The stage will be opened and will become a playground for everyone.
The event on June 1st is fully booked.
The duration of the performance depends on the age of the audience:
For babies from 0 to 2 years: 30 min.
For toddlers from 2 to 4 years: 40 min.
For preschool children from 4 to 6 years: 50 min.
The audience can enjoy other play dates on the following days:
Thu. - 01.06. 11:00 a.m. (KiTa 3 to 6 years)
Fri.   - 02.06. 16:00 (from 2 years)
Sat.  - 03.06. 15:00 (2 to 4 years), 17:00 (4 to 6 years)
Sun. - 04.06. 11:00 a.m. (0 to 2 years), 15:00 p.m. (2 to 4 years), 17:00 p.m. (4 to 6 years)
Artistic direction: LOUDsoft Daniella Strasfogel
violin & voice: Veronika Paleeva, Vera Kardos
Viola & voice: Daniella Strasfogel
Cello & voice: Sophie Notte
Lyrics: Uljana Wolf
Arrangements: Manuel Pessoa de Lima
Stage design, props & costumes: Miriam Marto, Sofia Vannini
Production: Katharina Held
Photography & documentation: Christina Voigt
Graphics: Suse Sebald
Illustration: Laura Merz
Wortlaut is a production by Daniella Strasfogel/LOUDsoft. Supported by Fonds Darstellende Künste with funds from the Federal Government Commissioner for Culture and the Media.