Scroll
ABER NICHT KÜSSEN IST AUCH KONTRAPRODUKTIV
Scenes from the life of Rosa Luxemburg. Part 2 Peace! (1906 - 1914)
Playing times
We 31.05 · 18:00 -

19:20
Th 01.06 · 20:00 -

21:20
Fr 02.06 · 18:00 -

19:20
Sa 03.06 · 18:00 -

19:20
Admission price
16 € | 12 € reduced + booking fee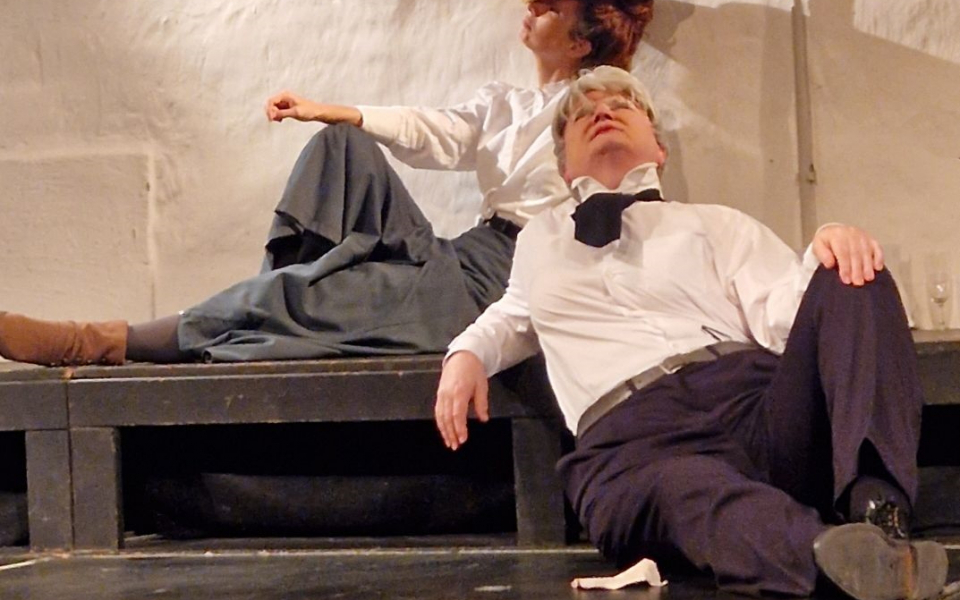 Rosa Luxemburg expected catastrophes to unfold iif the logic of profit, armaments and imperialism continue to rule the world. In its three-part lecture performance, Berliner Compagnie dedicates its second part, Frieden! (1906 - 1914) to the conflict with the leadership of the SPD party about the question of the general strike, her analysis of imperialism and her commitment to peace. Embodied by Ana Hauck, the audience is brought astonishingly close to the lives and thoughts of one of the most important women in German history.
The second part is embedded in the following series:
1. Revolution! (1871 - 1905)
From Rosa Luxemburg's beginnings in Poland, through the times in Switzerland and Germany, through her struggle against Bernstein's revisionism, to her participation in the 1905 Russian Revolution in Warsaw.
2. Peace! (1906 - 1914)
Rosa Luxemburg's propagation of the general strike, her quarrel with the leaders of the SPD about it, her analysis of imperialism, her commitment to peace - from 1906 to the beginning of the First World War in August 1914.
3. Freedom (1914 - 1918)
Her horror at the world war and the crisis of social democracy, her time in prison, Rosa's love for people, plants and animals, her involvement with Lenin and the October Revolution - from August 5, 1914 until her release from prison in Breslau on November 8, 1918.
4. November Revolution (10.11.1918 - 15.1.1919)
In this, the last part, we accompany Rosa Luxemburg from the moment of her arrival at the Silesian (now East) Station in Berlin until her death.
The theater does not have step-free and level access. There are also no barrier-free parking spaces, but the theater has wheelchair-accessible restrooms. There is space for wheelchairs and walkers in the performance hall/area. There is also the possibility of special suitable seat reservation and/or to enter the hall ahead of time.

The performance will be in German.

Contact: Helma Fries
E-mail: info@berlinercompagnie.de
Phone: 030 313 61 34